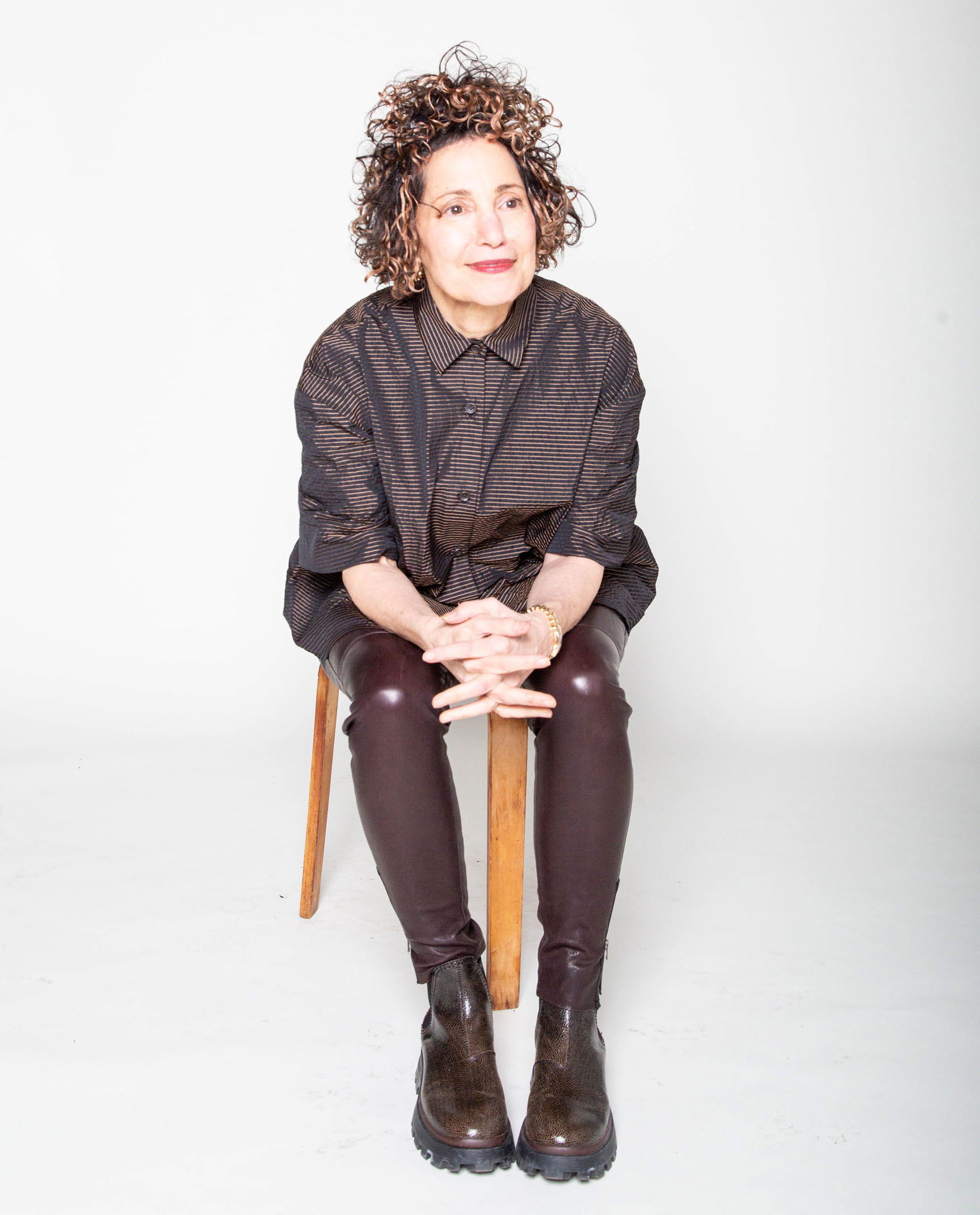 As a former filmmaker I am drawn to characters and story.
Designing clothing became apparent to me as an inevitable way to express my notions about behavior, identify, how we carry ourselves, who we say we are, and the boundaries that clothing affords us. I have always chosen clothes that directly or indirectly, consciously or unconsciously address, reflect and shout where I am emotionally. The significance of employing clothing to serve as a proxy for, at times, my point of view, is part of my emotional inheritance. I consider this occupation as the fruit, the response, the need that comes of it. And of course the obvious bestowal is my mother's love of clothes. When she wasn't in "schlep clothes" in her studio, painting, she dressed stunningly, as if her clothing were her emotional canvas. Her aesthetic choices were a kind of protest. She looked more powerful than she felt. She chose clothing to endow herself with an agency that most often eluded her.
I work with wonderful men and women who make the collections happen, all who have their own stories and histories which surely leave their wonderfully imaginative mark on the look and feel of the clothing. Johanna Cabrera, who is herself an accomplished artist, is the engine of this team and nothing gets past her keen eye. Together we make clothing that is functional, beyond utility, femininely masculine, never trendy and, most intentionally, can be worn for their practicality and grace.
At some point I realized that the act of defining myself and the need to have an impact through words or design, or making a film, moves me. Years of studying and being in psychoanalysis and studying music, film and dance from an early age, taught me that process and learning technique becomes the work itself, and thus becomes the very development of a personality. The ideas and values I very consciously communicated to my children, such as, learning how to talk through your anger, love and the tensions in between, how to decipher and decrypt where you are, who you are, what you want and how to get it, are those that I now put into my work, into my relationships, what I read and how I solve problems, or don't, is who I am. Making clothing, plunging into textile research, making relationships with mills, reasserting my aesthetic values, finding new homes for the clothes, and giving the collection it's stylistic personality, is all part of that trajectory.
The Mission of Shosh New York:
My goal for designing clothes is to provide scaffolding for our bodies in order to express the things we don't in words.
Because clothing helps you embody ideas about yourself that you can't, won't, or don't express through language, articulating your portrait with clothes becomes an act of creating an "I."
So our little business grew out of my firm commitment to the notion that clothing is recruited to make a self. It's a psychological journey for me as well as an artistic one.
Each Garment is made from a small team of dedicated sewers who work in New York City and live in it's surrounding boroughs.
We also work closely with a family owned business in the garment center where our collections are manufactured.
Many of our fabrics are up-cylced, recycled, we have used fabric made from the yarn of re - fabricated plastic bottles and often we use organic cotton, tencel and bamboo and of course the most "sustainable" fabric of all, wool. Our values dictate that we join the community of the concerned to reduce waste by employing existing surplus luxury fabric.
This isn't easy for a small business. As a designer I often wrestle with my conscience to find ethical justifications not to engage in the fight against our climate, knowing that rivers are being polluted by toxic dyes, or that americans alone produce more than 15 million tons of textile waste per year, 85 percent of which ends up in landfills.
Contributing to the vigor of the earth's fertility in a small way is like being a gardener, amending the soil and yielding healthy, nutritious crops, in this case, clothing with rich texture, and wearable chic tailoring made from ethical choices.
My personal design statement of purpose:
My life in clothes doesn't have much to do with fashion per se but more to do with my identity and self-expression. My interest in design comes from old emotional haunts about measuring up, about wanting to feel powerful in both mind and body, as well as from a cache of memories of looking at textiles with my mother, an artist who took her four children shopping when she managed to extricate herself from her studio. She spent her time with us feeling the texture of the fabrics and rhapsodizing about shape and color, her brilliance as a painter and serigrapher.
Clothing has always been my calling card, I assume it proceeds me so I can hide a bit. I'm mostly a plain jane in good fabric. I am an identical twin and clothing also helped me differentiate myself. Now I dress my twin who mostly lives in yoga clothes, many of which I design for her and make her wear. But my preeminent feeling about clothing and its gravity is that since I maintain that the body tells the story of one's life, the clothes you wear atone, enhance, defy and narrate your story.
For raw material, I draw on my artistic DNA – my mother was a painter, I am a filmmaker, my twin sister has taught me Taoism, yoga and learning to say the unsayable, my children are artists - and my most intuitive and harshest critics - my hubby is a political animal – all very much a part of my neurology. Stylistically I am on the masculine side of feminine, an unboyish tomboy. I am drawn to lush fabric with structural properties that hug the body like a mitten as opposed to a glove. I design clothing that I would want to wear. My effort is to entice women to wear them for the same reasons that I do; to feel powerful, loved, to participate in community and show up fully in our best second skin to do good work, love generously and contribute compassionately without too much judgement.